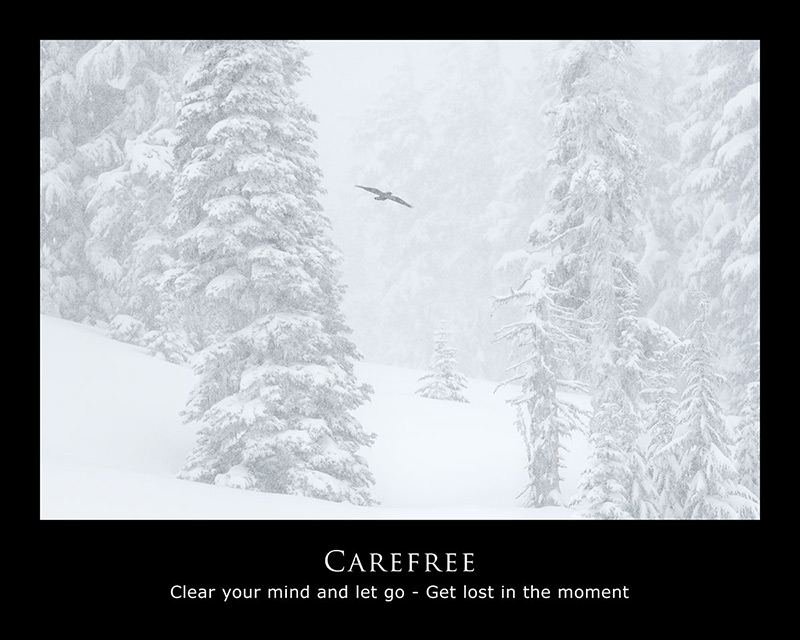 The pace of life gets quicker every day.  Information bombards us from every direction making it hard to choose what to take in and what to leave behind. We run faster and faster to make a living, support our families, pay the bills, and find time left over to nourish our mental health.  The biggest challenge in life is not to take it all in, but finding the time to take it all away. Take ourselves away.  Away from the frantic pace and demands of work, advertisers, politics, and all the other distractions.
HOW DO YOU TAKE YOURSELF AWAY?
That comes naturally for me when I'm photographing Ravens, and has inspired a new keynote presentation on finding harmony in work-life balance.  I call it CAREFREE TIME.  It's the time we need to change our perspective, to refocus and reconnect with ourselves, and to remember all we that have to be grateful for.  I advocate blocking-out carefree time on your schedule.  It's that important.  Carefree time is when we're the most creative and insightful, and feeds productivity throughout our lives. 
WHERE DO YOU FIND YOUR CAREFREE TIME?
Copyright Adam Bacher.  All images and content are registered with the US Copyright Office. Absolutely no usage without prior consent.